When poked with a toothpick it bursts open and shakes like jelly, this is Gokokuya's Dotted Yokan (sweet bean jelly) – "ITSUKI (Five Seasons)"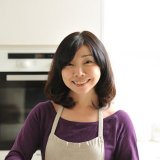 Cooking Expert
HIRANO Yukiko
Cooking Expert/Sommelier/'8huit,' ''76vin' Owner
Her taste is centered on fermented food and 'sashisuseso' (abbreviation for five seasonings comprised of sugar, salt, vinegar, soy sauce and miso)
The peak of summer is pure foody delight with snow cones, mizu yokan (soft adzuki‐bean jelly) and other frozen desserts, but even for snack time I have given some thought to improving and protecting my health. Gokokuya's "ITSUKI" , a Japanese sweet enjoyed by the people of Hamamatsu, Shizuoka prefecture, at first glance seems to be like some kind of jelly, but the yokan is in fact made using fermented ingredients. 
It is made using sake, salt mold, vinegar, soy sauce and miso, making it a kind of Sashisuseso.  It has a flavor which I have not found in my past experience of yokan, as it is also flavored with sake, matcha salt mold (salt mixed with powdered green tea), apple vinegar, white miso and soy sauce mold. Its low-key sweetness and faint fermented taste, when eating for the first time, is a kind of nostalgic food experience for me. If you poke it with a toothpick then the thin film wrapping the yokan shakes like jelly. It is a sweet which is a delight to look upon, and without thinking you want to poke it again and again with a toothpick.
In Japan there are four distinctive seasons, however this doesn't express how each season has its own charms. Over the summer we spend a lot of time saying again and again that "its hot," but as summer draws to a close you can enjoy the delights of ITSUKI, it is almost like enjoying a visit to the cooler season of autumn.
The Japanese sweets of Gokokuya are like the beautiful seasons that are special to Japan, and impart a wisdom conveyed over ages.  The packaging has been considered in some depth, resulting in a gift which will please anyone that you give this as a present or souvenir to. When it was exhibited at the Milan Expo it was very popular!