A taste which seems like it has just been freshly squeezed at a juice bar! A mixed carrot juice that has been dug up from the snow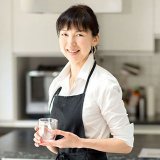 Cooking expert and food total designer
TAKAYO Ono
Get an easy and quick charge of vitamins even on a jam-packed morning!Bring a brilliant orange color to your kitchen table
Hello, My name is Takayo Ono and I am a cooking expert and food total designer.
I am the executive officer for a Cheese Professional Association which holds a Cheese Pan (bread) Expo every October, and I was looking for a tasty juice  to be served at the Expo which would go well with the bread.
When I was chatting to an acquaintance about this they told me about a carrot juice  produced and sold by ICHIRYU, as I researched about it and found it to be an amazing juice, I decided to take the plunge and try ordering it.
 I say it is amazing with good reason, first of all they have used 100% high quality Japanese ingredients that have been grown using organic fertilizer and then it has been manufactured without additives, without coloring, and without any kind of changes to the ingredients. I thought that there is really nothing else like this when I heard about how it is made and that it would be fantastic to know more about the background of this juice!
 The carrots are grown in a vast plateau located in Nakauonuma, Niigata Prefecture, which is famous for the rice grown in the same area of Uonuma.
An important aspect of cultivation is the use of charcoal spread on the ground. So that they can harvest the carrots while they still retain good quality the snow is melted quite quickly, and then fertilizer is spread around after the snow has been removed.
Carrot seeding takes place around July and August. Normally carrots are harvested during autumn, but instead they are left as they are throughout winter and harvested in the spring.
Carrots grown using this cultivation method are called "under the snow carrots."
There are two characteristics which carrots gain by being left underground through the winter, one is that it softens the smell of the carrots and the second is that it dramatically increases the amount of amino acid in the carrots so that they become sweet and delicious.
When you actually try drinking it you can strongly feel that the carrots are really sweet and that it is very delicious because there is no characteristic carrot smell. It is also very thick so you can feel confident that it is good for your health. It goes well with meals that include bread, and it is perfect as a supplement for the nutritional value of dietary fiber and vitamins lacking in cheese and bread!
From now on, for events and more, I feel that I can recommend this juice with confidence to attendees.
In other words, for anyone planning to come to the next Cheese Pan Expo I would like you to try drinking this ICHIRYU mix juice, made using carrots, together with cheese and bread. I will be sure to have tastings ready! As this carrot mix juice also has apples and more it is easy to drink, but I will also prepare other juices.
For anyone who would like to try this drink, or who just loves cheese and bread, please by all means come to our event.