A unique confiture that squeezes in the seasons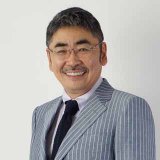 Novelist and TV Producer
IMAI Akira
Chef Miho Saito's uncompromising masterpiece - confiture
For a long time I thought that confiture is the same as jam. If you look it up in a dictionary it is explained as being the same, but jam has additives while confiture does not.
I want to introduce this amazing product by blowing away the haze surrounding jams and confitures.
This is Chef Miho Saito's perfect handmade confiture. For example, Fruits Rouges.
She only uses Amaou strawberries, a famous Japanese variety of strawberry. This confiture is made by boiling down both Amaou strawberries and raspberries. The color is absolutely dazzling.
The fresh fruit, and the chef's cooking technique, creates a beautiful red color. It can be said that it packs in seasonal flavors. The juiciness couldn't make my tongue any happier. This is a prize confiture that is obviously in pursuit of a top quality umami (taste). Other flavors include figg, Perche Rose, Mango Passion, Shonan Gold, Bramley Apple, and Pamplemousse Rose.
Each one will surprise you with its own richness. Chef Miho Saito is famous as a critical cooking researcher on the TV Asahi program 'Onegai! Ranking' (Please Rank This!). She is an expert of using aromas, and she has many well-known masterful chocolates.
Well, that confiture. Without a doubt it is exceptional with bread and crepes. There is also a special way by which you can eat it. I put a spoonful of it into my champagne. A high-quality sweetness and rich aromatic flavor entered my mouth, and made me drunk!